Modern day televisions no longer need to be placed onto a surface or inside an entertainment center alone. Instead, they can easily be mounted onto the wall for convenient viewing. How you decide to create a TV wall for your home depends on your personal preferences, but here are a few TV wall ideas and mount designs to get you started:
1. Pallet TV Wall
The biggest advantage of decorating your TV wall with pallets is that you can be creative with the designs and colors. It can match your flooring or the pattern on your wallpaper. Another benefit is that it is much cheaper than buying an entire entertainment center for your television. There are numerous DIY's on the internet where pallets are concerned, so this can be built at home with a little effort. Add in good lighting and decoration pieces, and your TV looks like the center of attention in your room!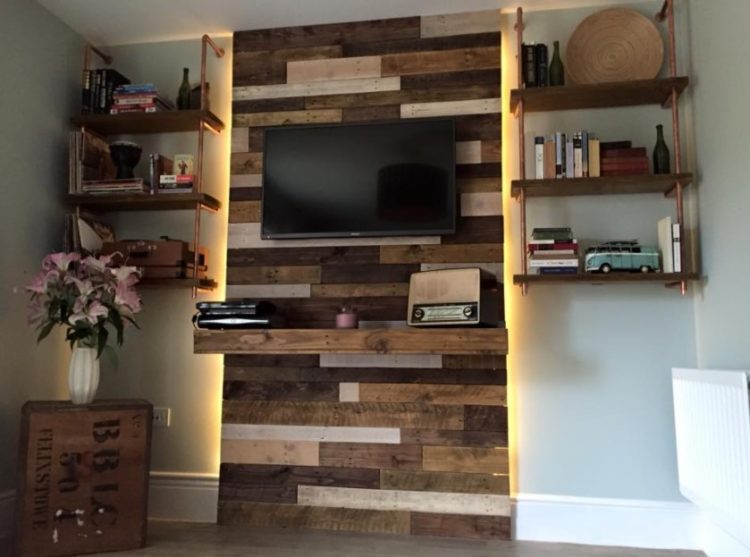 Source: The Skunk Pot
2. Pipeline TV Wall Shelf
This TV wall idea is very simple and elegant yet serves the purpose very well. The shelves above and at the sides are great in terms of decor. A single decoration piece, whether brightly colored or subtle and tasteful, on every shelf will change the entire outlook of the room. The shelves can be used as book shelves too or hold picture frames. This TV wall design works equally well for small or large spaces. It will not crowd a small room but at the same time it will not make a large space look empty. The addition of the long lamp on the side gives it a much better lighting effect and compliments the simplicity of this particular design.

Source: HOME CBF
3. One Piece Entertainment
This is one of the TV wall ideas which is easy to recreate. All you need are wooden planks of your favorite wood that you can use for construction. This is a plain TV wall mount design which is made from wood and hinges. It is a one-piece TV wall that has square-spiral shelf along with one simple one. The flat screen is mounted meanwhile there is a lot of space on the shelves for placing speakers, audio devices, books and other things that you would like around. You can either keep the wooden look or you can paint it with shades that match your interiors. In addition, adding neutral shaded decorations on shelves will enhance your creative work.

Source: reusero
4. Small Touches that Matter
This TV wall idea has its own unique features as it has no shelves or any cupboards on the sides, below or above. For a smaller room that does not have space for any unnecessary cupboards and shelves, this is ideal. It is simple and only involves very few decorations around it. As shown in the image, just a couple of frames will make it complete. You can change their size according to whatever space you have. You can also give it a theme, such as in this one which is a green environmental theme. Add in small touches just enough for the wall.

Source:  reusero.com
5. Keeping it Simple
For those who believe in minimalism and simplicity, this is the perfect TV wall idea. The entire focus is on the television screen without any clutter on the sides to distract. There are no shelves or excessive decorations crowding the space. The elegant and thin shelf/cupboard below is enough to hold any other related gadgets such as DVD players or speakers. And it is just enough not to make the space look too empty. Simple adding a small vase or lamps on both ends of it will complete the whole look of any room it is placed in.

Source: Johnsonforgeorgians.com
6. Symmetrically Simple
This TV wall idea is simply perfect for the living room! It has enough light, storage, simplicity – you name it. The TV is made the focal point with the symmetry of the television's surroundings. The television is fitted into the wall so that there is no danger from excessive movement during cleaning, and it also keeps it out of reach of children. After all, who would want a child to draw on the screen with a saliva-laden finger? The lighting can be used to further enhance the focus on the television. With just the top lights on, the living room can turn into a mini cinema. The shelves on the sides can be used for placing decoration pieces.

Source: CheneInteriors
7. Modernized TV Wall
This TV wall design gives a very modern and sophisticated look to the entire wall in the living room. It not only accommodates for the small movements of the television screen but also allows for decoration within a limit. The one thing that sets it apart from other TV wall ideas is the heater at the bottom. It gives a very cozy look and also saves the space that would otherwise be used if the heater were placed separately. It is the best example of how well a TV wall can save space. The only possible drawback of this is the overheating that might occur as a result of the heater and damage the television set above. So adjust your heating settings carefully. The light in the showcase further puts focus on this part of the room.

Source: Londondear.com
8. Luxury at its Finest
This is by far one of the most aesthetically appealing TV wall ideas on the list. It is a complete package. The design is very modish, there is ample and good light, the decoration is very tasteful too. The only possible drawbacks with this TV wall design are that it is expensive and that it can only be implemented properly in a bigger space. It looks straight out from a modern interior decor journal. The shelves are rather impressive and thoughtful instead of the same old designs. It is best for bigger spaces like luxury apartments or suites and not for living rooms or bedrooms with limited space. The soft lighting makes it all the more appealing.

Source: Viibez.co
9. 3D TV Wall
One of the perks of an ultra-modern TV wall idea is that they incorporate style with functionality. This is a small design which has a built-in fireplace below the mounted television without any decoration. Yet it looks trendy and warming. This TV wall design is more powerful because of the lack of distracting decoration while incorporating interesting blend of colors for the wall. The wooden panel stands out in the wall with two spots for fireplace and flat screen. You can get a wooden panel in one sport or make the entire wall from brick-tile or wood-tile panels. Moreover, you can add a table on the side or built-in cabinets with alternating panels if you want to add storage space or decoration to this design.

Source: theskunkpot
10. Wall on Wheels
The best material for furniture is wood. And the best thing is that it never goes out of style and there are numerous varieties to choose from.  A simple and easy idea to build wooden movable TV wall will go with just about all the other furniture in the room and can easily be re-polished to look brand new every once in a while. Add wheels to this and there is the whole package! It can be moved to clean up the space. It can also be shifted from one room to the other with ease and without much effort.

Source: RyanScott2go
11. Super Minimal
Minimalism seems to be the favorite aesthetic theory for contemporary artists. When it is implied in your room for TV wall mount ideas, it can make the room look spacious and cool. Once you have mounted the flat screen, you will need a simple low-height table in black/white. It will look like shelf on the floor meanwhile producing a trendy effect for the room. Moreover, decorating the shelf with same-colored objects will create contrast with the TV screen and table and complete the minimal look. This is a TV wall design that can also be applied in smaller living rooms which do not have space to accommodate heavy furniture.

Source: Homedit.com
12. Made From Concrete
One of the most unique TV wall ideas is to use concrete to create the decorative feel around your TV. There are many ways of incorporating this trendy fashion to the wall. For instance, some people add concrete wall as backdrop for flat screen and wooden table for the finishing. But you can also use concrete blocks to hold up planks of wood to make table underneath the TV. This is an easy and quick DIY project that will give you the chance to set up your decorations in a short time. Moreover, it will make your living room look jazzier meanwhile giving it the Stone Age look.

Source: fordiyers
13. Going Green
This is another one of the easiest TV wall ideas that you can try out. All you need is an old dresser or table that you can paint over. Choose any shade of green that you would like in your bedroom and get to work. Vintage green color will bring out the fabulous and striking pinch of color that you want to add to your bedroom. However, leave the tabletop brown in order to keep this piece unique and authentic. This is a TV wall design idea which can be used for small living rooms and bedrooms. The primary power of this DIY project lies in the color. You can place the television on the shelf or mount it on the wall according to your preference.

Source: pickedandpainted
14. Woodwork TV Wall
This is one of the most intriguing TV wall ideas which imitates a barn inside the home. You can make a DIY project to make it an entertainment center at home. The first thing that you will need to make is cabinet for the television which can be opened whenever you want to watch TV. For the table, you will need wooden plants, hinges, handles and hardware fence that will make your cabinets look like dens in a barn. Using oak wood or drift wood will be ideal for this project as you can paint them any color you want. Use shades that are closest to those you see in the bar to finish off the project. This TV wall is suitable for houses in country side or for anyone who wants to achieve the country look in their modern home.

Source: Shanty-2-chic
15. Clad in White
Built-in TVs are a great way for making your living room look more glamorous and luxurious. White shelves with wooden table tops will look wonderful for this design. Moreover, this is one of the wall ideas that are timeless. All you need to do is plan the TV area according to how many shelves and cabinets you would want. Once you have the ideal surroundings, mount the TV and speakers on the wall so that they do not take up any space on the shelves. On the other hand, surrounding shelves will give you the space for decorating with frames and other assortments.

Source: onlyndoor
TV walls can transform the whole look of your room. Be it a bedroom or a drawing room where formal gatherings are hosted, or even offices, there is a wall idea for all. From plain and simple looks to the expensive-looking modish looks, there is a wide variety to choose from. Their price range varies accordingly too. They are a much better alternative to the old television 'stands'. Not only do they transform the room in terms of aesthetics, they can also help minimize the crowding of the room making it seem more compact and tidy.