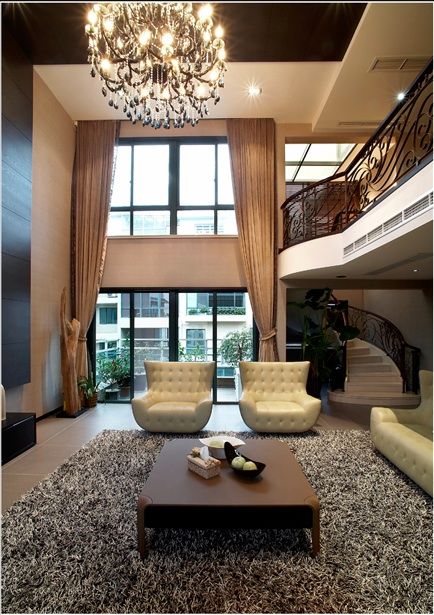 In today's modern world, where the metropolitan areas are increasing in size and decreasing in space, many have chosen to utilize Lofts to call their home. Although the size and structure of these living spaces may differ from a conventional home, an Urban Loft Interior Design can still be exquisitely and successfully decorated as it were any mansion on a hillside.
Urban Lofts (or apartments) are commonly found nestled above a factory, warehouse, or other commercial structures found in larger cities – although that's not always the case. These romantic and charming dwellings appeal to a variety of people for a variety of reasons, one of them being that it allows them to reside closer to work as to avoid a long commute from the suburbs. With that said, however; many simply enjoy the ambiance, the character, and aesthetic appeal of living in an Urban, spacious area – that is basically a blank canvas for decorating. Herein lays the design challenge.
A Decorating Challenge?
Urban Lofts are typically large, open spaces with high ceilings accompanied by dramatic floor to ceiling windows. Depending on the space, there may be structural columns, pipes or beams that will play into your Interior Design plan, as well. When presented with such a clean slate, designing a Loft can be a bit challenging compared to other spaces that have four walls, focal points and division.
Because of the Urban, Contemporary feel of a Loft, choosing to decorate with a Modern Interior Design is a popular method, but by no means is it your only option. By incorporating the architectural elements that are present in the space, and combining them with your own personal and preferred design style, you will achieve an end result that will be exclusively yours to relish and enjoy for years to come.
Considerations for an Urban Loft Design
Utilize the Architecture: Lofts are usually riddled with architectural components such as beams and columns. Use these to your advantage by allowing them to assist in dividing up the space – creating boundaries, if you will. Try Painting the columns a contrasting color to distinguish one space from the other … or use a color that will allow them to blend in with the overall theme – which results in a smooth flow of the design. Do the same to exposed beams, as well.
Let The Sun In: Most Lofts come with an abundance of windows, which is a win-win for the resident. Choose a Window Treatment that compliments your decor but still allows the sun to stream through, such as blinds or sheers. For a softer, romantic, perhaps Traditional feel, incorporate drapes in conjunction with the blinds. If you are lacking in windows, a simple fix is to use large mirrors to reflect sunlight.
Light the Way: A strong Lighting Design will prove to be an important element in your overall designing process. Track or cable lighting is generally an attractive and popular option due to the height of the ceiling. Spotlights will help focus the eye to a particular area of the home, as well as table lamps and drop down chandeliers. For additional ideas, consider consulting a professional Urban Loft Interior Designer who will introduce other lighting options that you may not be familiar with.
Accessories: Consider adding folding screens to break up spaces or provide privacy. Carpets or area rugs can also aid in creating boundaries, as well as spotlights or direct lighting aimed at a particular piece of artwork or furniture grouping. Incorporate the industrial aspect of a loft by bringing in modern elements made of glass, stone, or metals ( vases, candlesticks, mirrors) as well as bringing the outdoors in by using greenery.
Furnishings: Depending on your chosen design style, select furniture that will compliment your preferences and tastes. Furnishing a loft can afford you a few basic luxuries that you wouldn't have in a traditional home setting. The lack of defined space via walls allows you to move and rearrange your pieces to conform to just about any degree you wish. Choosing furniture that can be easily grouped together is a plus, as well as using larger pieces such as hutches and bookcases to act as partitions.
Bring Heaven Home
Urban Loft living has been around for centuries and glamorized in Hollywood movies with its residents being an eclectic mix of artists, baby boomers, bachelors and the Wall Street elite. In the real world, Lofts will continue to be a desirable living space for anyone who simply needs a place to hang their hat at the end of a long day. If your home is truly suppose to be your castle, then an Urban Loft Interior Design will allow your castle to be a little closer to heaven.
To learn more about Interior Design Styles we encourage you to check out our interior design ideas and photo Gallery with inspirational suggestions for all aspects of your home, office or business.
When you are ready to start looking for professional help with your designing project, our interior designer directory lists highly qualified design firms in your area – or try visiting our new matching service where we help team you up with the right designer for the right job.